The way we travel is changing. So is the way we see the world.
NATALIJA VORONINA
© Kotus Wellness.
New Year 2021 started with the night sky in London being lit up with a spectacular fireworks display and light show. During the display, the English broadcaster and natural historian, Sir David Attenborough, sent a message of environmental awareness and the importance of activism. He referred to our planet being unique and diverse, but also fragile.
"With the new year comes the opportunity for change," he continued. "And if we act in 2021, we can make a world of difference. Together, we can turn things around. Together, we can restore our fragile home and make it a happy new year for all the inhabitants of planet Earth."
As he spoke, drones formed the shape of the African continent inside a turtle.
The same 'turtle' logo that the Kotus Wellness (a sister company of Kotus Travel) stands behind; a company that offers a wide range of holistic wellness travel, rejuvenation, and other types of wellness escapes or wellbeing getaways that support their clients' health and wellbeing while being environmentally responsible and sustainable.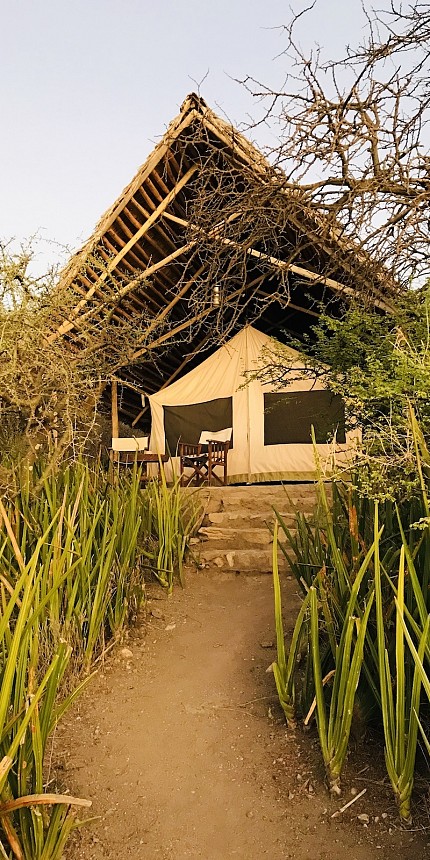 Olduvai dessert, Tanzania. Sustainable campsite powered by solar energy. Picture by Kotus Wellness.
Olduvai desert local Macai community and the handcraft made by the Masai women. By purchasins these handcraft tourists support local Masai communities. Picture by Kotus Wellness.
"We understand that our clients are citizens who are concerned about their future and the future of our planet. We also realise that a lot of our clients are already environmentally and socially responsible and engaged," said Dovile Kaspariene, Founder and the CEO of Kotus Wellness.
More people are looking into ways of choosing a meaningful journey. They are no longer confined to five days a week in an office. It is predicted that the "workcation" will become a popular trend in 2021, with travellers looking to extend their vacation experience in new locales by staying an extra week or two to work remotely.
"These uncertain times will pass very soon, and there will be a way to explore again. Many countries, such as Mauritius, Barbados, and the Cayman Islands, have introduced a year-long visa to attract long-stay visitors. These visas have been designed to attract professionals seeking COVID safe haven and who wish to come with their family and work remotely or family visitors who have children studying," said D. Kaspariene.
She continued by highlighting that nowadays, travel can be a force for good. It allows for cultural dialogues, and it breaks down mental borders. However, travel can also be a drain on the environment when travellers overuse resources that are already scarce in some locations. Kotus Wellness is committed to supporting local communities and sustainability so that travellers make a positive impact.
The company's mission is to work with suppliers who are recognised for their sustainable practices with total commitment to local communities and ecosystems. Many of the company's partner hotels work with local charities to support the local environment. One of the more significant examples being travellers who improve the lives of local children of Zanzibar by sponsoring a child, donating supplies, and visiting the local schools.
A lot of partner hotels have gardens that protect delicate ecosystems for animals and insect populations. They offer sustainable perks like a water bottle for life, with water bottle filling stations (no plastic bottles). Also garden-to-table sustainable menus, eco-certified body care products, or even beehives on hotel rooftops (the honey produced is used in hotel restaurants and as treatments in hotel spas).
Some of the chosen properties situated near seas and oceans inspire travellers during their stays to take action to protect the oceans and sustainably use marine resources.
Kotus Wellness also supports the ecology protection and conservation of local turtle populations by educating and encouraging their clients to take part in turtle hatching projects while on holidays.
While planning to escape to the sun can be inspiring, travelling abroad to relax, re-energise, and replenish one's inner wellbeing is not possible until restrictions are lifted. With this in mind, Kotus Wellness has partnered with Blossom & Jasmine - UK's most luxurious at-home salon service and a recent winner of Greater London Enterprise Awards 2020.
Blossom & Jasmine are diligently preparing a host of therapists who have a similar ecological outlook, offering a wide range of services locally here in the United Kingdom. The therapists use eco-friendly products and are happy to educate their clients on the benefits to wellbeing. Their primary focus is on the ocean pollution problem as many health and beauty products come from water, such as fish oil and collagen.
"Due to the restrictions or personal preferences, if flying abroad is not an option, you will still be able to access the pampering you crave and the personal reward you deserve without ever having to get on a plane. Booking in advance will ensure that you do not need to wait for the inevitable rush to subside once the government gives the green light to welcome us into your homes, offices, and hearts," positively encouraged Gintare Lisauskiene, Founder and CEO of Blossom & Jasmine.
Raktažodžiai: