Vilnius is the greenest city in Europe and third in the world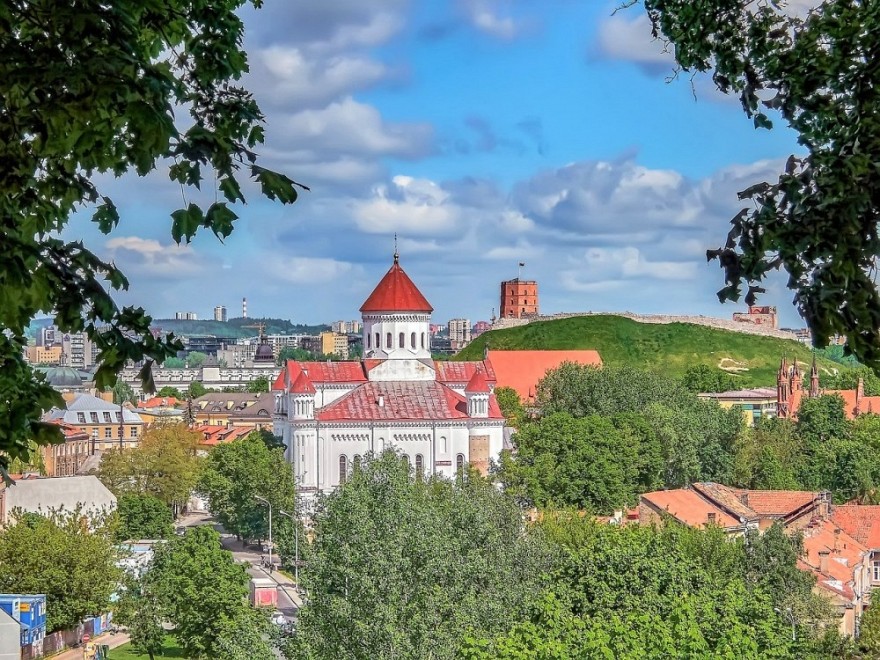 © Image: O. Kuzma.
Husqvarna Urban Green Space Index (HUGSI) has named Lithuanian capital Vilnius the greenest city in Europe. By applying computer vision and deep learning techniques on satellite images, HUGSI unveiled that 62% of Vilnius territory is greenery and by this measure the city ranks third in the world.
HUGSI-index was announced for the second year running. In total, satellite images of 155 cities across 60 different countries were analysed in order to evaluate their greenness and provide valuable insights about the size, proportion, distribution, and health of green space in urban areas.
The research revealed that 49% of all Vilnius territory consists of trees, 12% – grass areas, 1% – water, and the remaining 37% of everything else – roads, car parks, building, etc.
Vilnius city mayor Remigijus Šimašius was pleased that continious efforts to make the city greener were recognised internationally: "Climate change provides a huge challenge for everyone in the world and we understand that green spaces of Vilnius is our true treasure. We have forests which provide recreational space for all people and is responsibly taken care of by foresters, employees of Vilnius city municipality".
"But we also have the urban spaces – the streets and gardens which are well maintained and nurtured. If we want to leave green spaces for our grandchildren, we must plant trees now. And that is what we are doing – all while also trying to preserve the existing greenery during the development of the city. All in all, although this achievement is a pleasant surprise, I believe it is well deserved because we are constantly working towards a greener Vilnius", - said R. Šimašius.
HUGSI is a digital innovation initiative developed by Husqvarna in collaboration with 20tree.ai. The ambition is to help safeguard and improve maintenance of green spaces in urban areas. Husquarna created HUGSI to raise the awareness about the value of urban green space among citizens, support city officials and politicians to make data informed decisions and facilitate the collaboration across industries and organizations to together make "smart and sustainable city" a reality.
"Since last year we have received a lot of interest and enquires about HUGSI and this year we have taken further steps to make it even more relevant for city officials, green space professionals and for all people living in urban areas." - says Erik Swan, product owner for HUGSI.green
Overall, this years HUGSI found out that urban areas are not getting greener, that urban areas in Europe are greener than average and that Charlotte, North Carolina, USA, is the Global Green Model City 2020.
How green are cities, really?
When analyzing the land use of uban areas and segment it into Vegetation (tree + grass), Water and Other (hard made surface, houses, roads), HUGSI shows that:
Urban areas globally are 39% green on average

Europe is greener than average with 45 %

Latin America and South and West Asia least green with 29%
Are cities getting greener?
When comparing land use within urban areas, ignoring agriculture areas, for 2019 and 2018 to discover changes, there are both positive and negative changes from a vegetation perspective
Compared to 2018 the urban vegetation declined with -0,01% or 14 Million m2

Central East Asia (China) accounts for a decline of 52 Million m2 vegetation

Europe, Latin America, North America and South & West Asia increase their green space with over 40 Million m2
Erik Swan, product owner for HUGSI.green says: "Our data for Central East Asia (China) indicate massive decline in green space, manily due to heavy city development. However we can also see that cities in China are greener on average compare to other regions and that cities seem to have well distributed green space."
This year the global green model city of HUGSI 2020 is awarded to the City of Charlotte, North Carolina USA. The city of Charlotte really stands out having great KPI's resulting in a global top ranking. The research revealed that % of all Vilnius territory consists of trees, 12% – grass areas.
KPI's per city, for all cities are available at www.hugsi.green.
Regional achievers
The cities being most green in their region are:
Africa: Durban, South Africa

Central East Asia: Hong Kong, China

East, Southeast Asia and Oceania: Ho Chi Minh City, Vietnam

Europe: Vilnius, Lithuania

Latin America: Rio de Janeiro, Brazil

North America: Charlotte, North Carolina USA

South and West Asia: Dhaka, Bangladesh
HUGSI 2020 Top 10 cities
1. Charlotte (NC)
2. Durban
3. Vilnius
4. Dortmund
5. Krakow
6. Stuttgart
7. Austin
8. Wuerzburg
9. Zürich
10. Heidelberg
Toplists per region and for all cities are available at www.hugsi.green.